In-Studio Newborn Prep Guide
--up until September 20, 2018--
for your session with AWalker Photography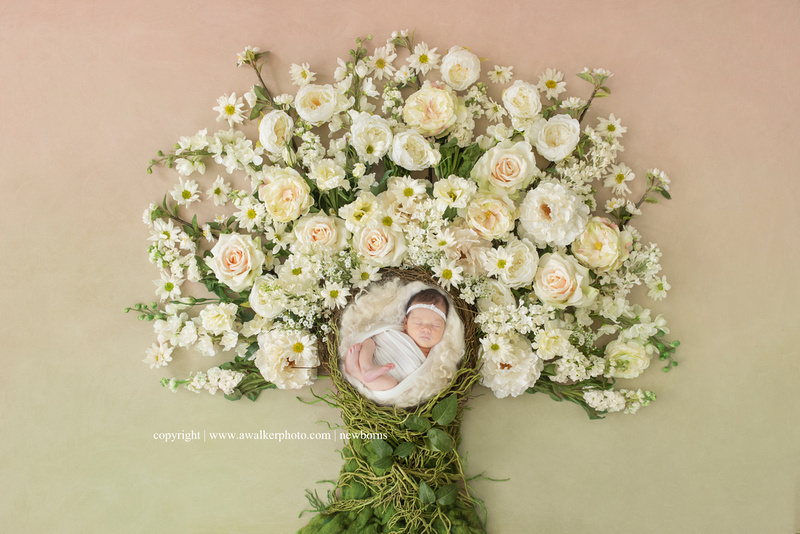 Hello! Congratulations on your new little bundle!
Thank you so much for choosing me to document these special family moments in the first few weeks of your baby's life. My goal is for our time together to be comfortable and for you to have a great experience. Take a peek below at some helpful instructions to prepare for our session.
My home studio address until September 20, 2018: Houston zip code 77044
After September 20th, I will be doing the newborn sessions at your home for a limited time until my new studio is finished.
HOW TO PREPARE
1. Baby: Your baby should be 4 days old to 4 weeks old for a newborn session (2 to 3 weeks is ideal). Please have the baby wearing something easy to take off, like a onesie with a zipper. I need the baby as sleepy as possible, so to do this, please keep the baby awake for at least 1 hour before your session, including on the car ride over. I know it's hard! This is very important to have a quick session (otherwise, the session might take up to 3 hours). I'm sure your baby sleeps all the time at home, but it's a different experience for him when I'm moving him around so much, so just trust me and keep him awake 1 hour before the session. To keep baby awake at home, you can give him a bath (or a sponge bath if he still has his cord). He will wake right up or even fuss a little, which is perfectly fine. Have someone ride in the back seat with him on the car ride over to keep him awake, even being fussy is ok! Then you can feed him immediately when you arrive and baby should zonk right out. Do not worry about bringing newborn outfits, which tend to look very awkward on newborns. I use stretchy wraps, blankets, or nothing at all.
2. Mommy: I highly encourage you to be a part of the session (someday you will look back very fondly of these first few weeks with the baby). Please wear very neutral colors to your session, like whites, creams, light browns, and light grays, and try to incorporate texture in your blouse/dress by wearing lace, sweater material, or crochet material (see examples below). If hubby is coming along for a full session, please have him wearing something neutral as well, especially a white or light gray long-sleeve button-down collar shirt or a thick white or light gray t-shirt (although t-shirts tend to show every little pudge). Honestly, don't stress too much about what to wear. You will do fine! I even have some things, so just ask. Most new mommies are so exhausted the first week after the baby is born, so you might consider doing the newborn session when the baby is 2 to 3 weeks old. You will be getting a little more sleep by then and will be on a good schedule, and the baby's umbilical cord should have fallen completely off by then. I recommend either no nail polish or a very subtle color.
Below: Notice all of the beautiful cream/white for mommy and baby, and each has added texture.
[What To Wear example photos below are from Instagram]
3. Siblings: Big brother will look great wearing brown/khaki pants without a shirt (or a plain white shirt or a plain light gray t-shirt). Big sister will look great wearing a casual white/cream dress, especially with lace for added texture, or a very neutral colored tank top with leggings or anything light brown or light gray or white or cream. Kids don't need to be dressed in their Sunday best; no need to be super fancy. I have some studio outfits for toddlers and kids, so just ask! If Mommy and Dad are wearing white and cream, siblings should as well for a very clean & classic look. If bringing toddlers along to the photoshoot, you might bring them a little snack or some juice.
WHAT TO BRING
You should bring along these items:
1. Your diaper bag with diapers and wipes, just in case of a poopy explosion
2. A soft blanket to keep baby warm in between poses
3. A pacifier to soothe baby in a position, so I won't have to use my finger (I typically don't need to use one at all, but some babies have a high suck need and can be very fussy when not sucking while awake)
4. A bottle of milk, if you happen to pump (or you can just breastfeed), or extra formula since babies may need to eat more often than normal during our session because I am moving them around more (and when a newborn is awake, they want to eat)
5. Some snacks for you and your other children to eat, in case the session is longer than expected (I will have bottled water available throughout your session or you can bring your own)
6. You will NOT need newborn outfits. I have a large selection of wraps to choose from, or, most likely, I will leave everything off completely, only leaving on the diaper (carefully tucking it so it is not visible in the photos). I also have plenty of headbands and crowns, so just ask!
GENERAL INFO TO KNOW
1. I tend to keep my home studio rooms very warm so baby will sleep soundly, so feel free to bring along an outfit change for yourself with shorts and a tank top to stay cool.
2. For a mini session: I will start with the mommy/baby shot (or sibling/baby shot, if you have other children); then I will do a custom stylized "artsy" pose of the baby with all props and setup provided. For a full newborn session: I will start with sibling shots, family shots, mommy/baby shots, daddy/baby shots, little details shots of the baby, then individual stylized artsy shots of the baby (up to 2, if the baby is sleepy enough). We can easily take a little break to soothe the baby or to feed the baby.
3. If you are bringing other children along, I will do sibling shots first. You might bring a family friend or have your hubby come in a separate car to take the other children home after they are finished, but I do have toys for toddlers and older kids to keep them busy for the rest of the session.
4. Newborn minis tend to take 1 hour (or up to 3 hours, if the baby is not sleepy at all). Newborn full sessions tend to take 2 hours to 4 hours.
5. You can stop anytime to pump or to breastfeed the baby. I have some comfortable private areas that you may use.
6. Full newborn sessions come with free newborn announcement cards and white envelopes for you to mail out to friends and family. You choose the style and final photos for the cards. You can ask to see examples during your session. Mini sessions do not come with announcement cards.
7. My turnaround time to have your newborn photos edited and returned is always 7 days or less. Pretty fast! You will receive your images in a private online gallery as an instant download. You can make prints at a photo lab of your choice and can share your photos at any time on social media.
Please let me know if you have any other questions!
I can't wait to photograph your family <3
WEARING ALL WHITES / CREAMS LOOKS AMAZING FOR A NEWBORN FAMILY POSE (pictured above)