ABOUT ADRIENNE WALKER
of AWalker Photography
The girl behind the lens!
Above, on left: I was photographing a wedding
Above, on left: I was with my son at a park in Baytown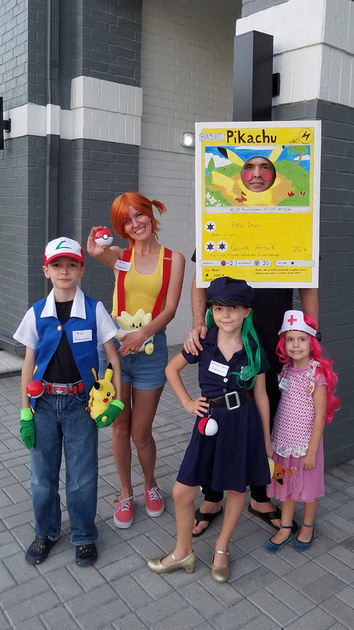 Above: Posing Pokemon-style with my family for Halloween (hubby is the card, ha)
WINNER OF LIVING MAGAZINE BEST OF 2017 READERS' CHOICE
ADRIENNE...
Graduate of Baylor University | Visitor of all bookstores | Beach obsessed | Lover of shoes, coffee, malbec wine, teas | Will do anything for tacos | Avid bird watcher and bird journalist | Collector of postage stamps and antique silver forks | French macaron maker | Metal detectorist | Sudoku puzzler | Obsessed with the Great British Baking Show | Big fan of Roy & Moss on the show "I.T. Crowd" | Adorer of tea parties with sugar cubes | Lover of all French cuisine, French antiques, French tea towels, French gardening shows, French-anything | Former public school math teacher for 5 years | Studio photographer for Janie & Jack children's clothing store |
Follower of Jesus Christ | Happy wife of a brilliant mechanical-aerospace engineer | Homeschooling mommy of three very sweet children who are my complete inspiration for all things photography
Thanks for stopping by my website! I would love to be your photographer!
---

__________________________________________________________________________________________
__________________________________________________________________________________________
(http://getkidnnected.com/articles/meet-adrienne-mom-entrepreneur-of-adrienne-walker-photography)
Houston family photographers, Houston family photographer, Houston family photography, Houston modern photographer, Houston modern photography, outdoor Houston photography, Houston classy photography, cute Houston photography, best Houston photographers, best Houston photography, Houston newborn photographer, Houston newborn photography, best Houston newborn photography, best Houston newborn photography, best Houston family photography, best Houston maternity photography, best Houston maternity photography, Atascocita photography, Kingwood photography, best Kingwood photographers, Houston wedding photographers, best Houston wedding photography