SUGGESTIONS FOR WHAT TO WEAR
by Adrienne Walker of AWalker Photography
For timeless, classic photos that look effortless, there are two steps.
STEP 1: To coordinate colors in your outfits, use this little trick: Choose 3 neutral colors (one of them being CREAM / WHITE) and ONLY wear shades of those 3 colors. I consider neutral colors to be these 5 categories:
(1) whites/creams, (2) grays/light grays/dark grays/charcoals, (3) browns/tans/peach/khakis/espressos, (4) blacks, and (5) light blues/dark blues/navy/blue jean. So choose 3 of those categories! Easy peasy! If you are a pro at this, you can even try only 2 neutral color categories (like the photo above). Feel free to layer them up! A fluffy cream vest for girls looks great with a dress and leggings! A light sports jacket looks great on Dad. The 3 neutral color categories include accessories like belts and shoes, so keep that in mind-- if everyone is wearing brown shoes, then the brown category should be one of your 3 neutral color categories, so have someone wear a brown scarf or some khaki pants.
STEP 2: Texture! You should have texture in at least one outfit! Women and girls can add texture by: lace (white or cream lace looks amazing!), crochet material, chunky sweater material, tulle material, net material, a shaggy faux animal fur vest for girls, or anything else you can think of to add some texture. Notice how the use of texture in the examples below really make the photos stand out!
SOME GENERAL ADVICE FOR YOU:
Tip: No more than 2 people in a family should wear jeans, if any at all (but if you must wear jeans, choose a dark shade of blue jean). Please stay away from all jeans in a family.
Tip: Stick with mostly solid colors and only have 1 person maximum (if any) wearing a patterned shirt (stripes or a checkered shirt). Stay away from flower shirts or busy patterned shirts. Too many patterns in outfits just look "busy" and confusing all together. If one kid is wearing a checkered shirt, the other kids should NOT be wearing patterned shirts. Stick with solids. Also stay away from huge logos or big words on your shirt, which are very distracting.
Tip: Dress in layers! YES!
Tip: Men should wear a long-sleeve shirt with a collar (and can roll up the sleeves in warm weather), tucked out for a more casual look, or tucked in with a belt. See many examples below of this. Men should not wear just a t-shirt (makes guys look frumpy, and shows every little pudge). Men need a thicker shirt with a fold-over collar, even a short-sleeve polo will work. A button-down shirt looks the best, or even dress in layers (like the guy above).
Tip: Don't be matchy-matchy. If Dad is wearing khaki pants, Mommy should NOT be wearing khaki pants. If Dad is wearing blue jeans, Mommy should NOT be wearing jeans.
Tip: Men, your socks will show! Wear your best dress socks. Avoid white socks.
Tip: Be careful of orange and red! Wearing these colors (or even sitting on an all-orange / all-red blanket) will reflect the orange / red back onto your face and will give your skin tone a strange look. I would just avoid wearing orange and red shirts altogether.
Tip: If you have more than 6 people in your family, have one person wear stripes. But nobody else should be wearing a patterned shirt.
Tip: If you have a toddler boy, suspenders are always cute. I have some, so just ask.
Tip: When in doubt of colors to wear --if you have no idea what to do-- choose shades of blues (light blues and dark blues only), browns/tans/khaki, and cream/white. For indoor newborn photoshoots, everyone wearing whites/cream looks amazing.
Photo Below: Notice only 3 neutral colors and shades of those 3 colors- browns, blues, whites/creams
Photo Below: Notice only 3 neutral colors- browns, whites, grays
Photo Below: Notice the neutral colors and the use of texture (tulle) in the dress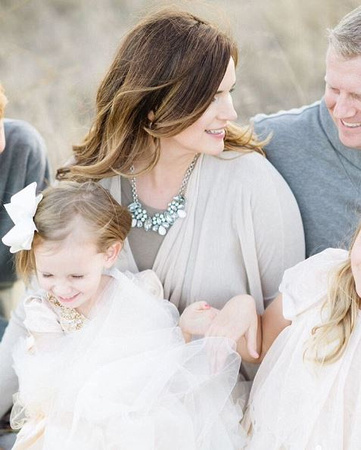 Photo Below: Only 3 neutral colors- blacks, grays, creams plus only 1 person wearing a "pop" color